This tour will take you along the best around Gouda: windmills, lakes and cheese! It's a perfect tour for just a short break away from the busy city.
---
Route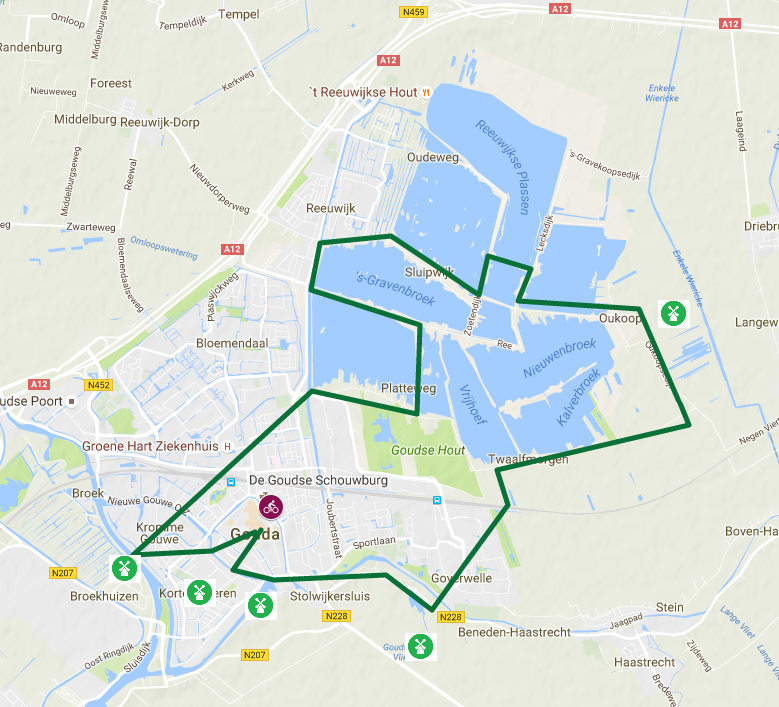 We start our guided bike tour in the old town of Gouda with its beautiful canals and bridges. We make a stop at Korenmolen "De Roode Leeuw" (the Red Lion). This windmill is the largest of the currently existing windmills in Gouda. You can imagine how it once towered over the city walls.
Gouda has a long naval history and we see dozens of ancient ships in its old harbour and locks. The next windmill is located slightly further on our way, also next to the old city wall: 't Slot (the Castle) is still fully equipped as a corn mill but no longer in operation. In 1581, this location was the site of a first windmill, built on the foundations of the demolished castle belonging to the lords of "Ter Gouw", as Gouda was previously known.
We continue our route along the Hollandsche IJssel river to the Haastrechtse Molen. This mill is one of the few historic polder mills with a gauntry. It was constructed in this way because the windmill had to stand higher than the dikes in order to catch enough wind. It has since been converted into a house.
In Haastrecht, a pretty old town, we will make a short stop at a cheese farm to get a sense and feeling of the cheese making process. You will taste the cheese yourself here! Note: this is an activity, which can only be offered during cheese farm opening times - please inquire.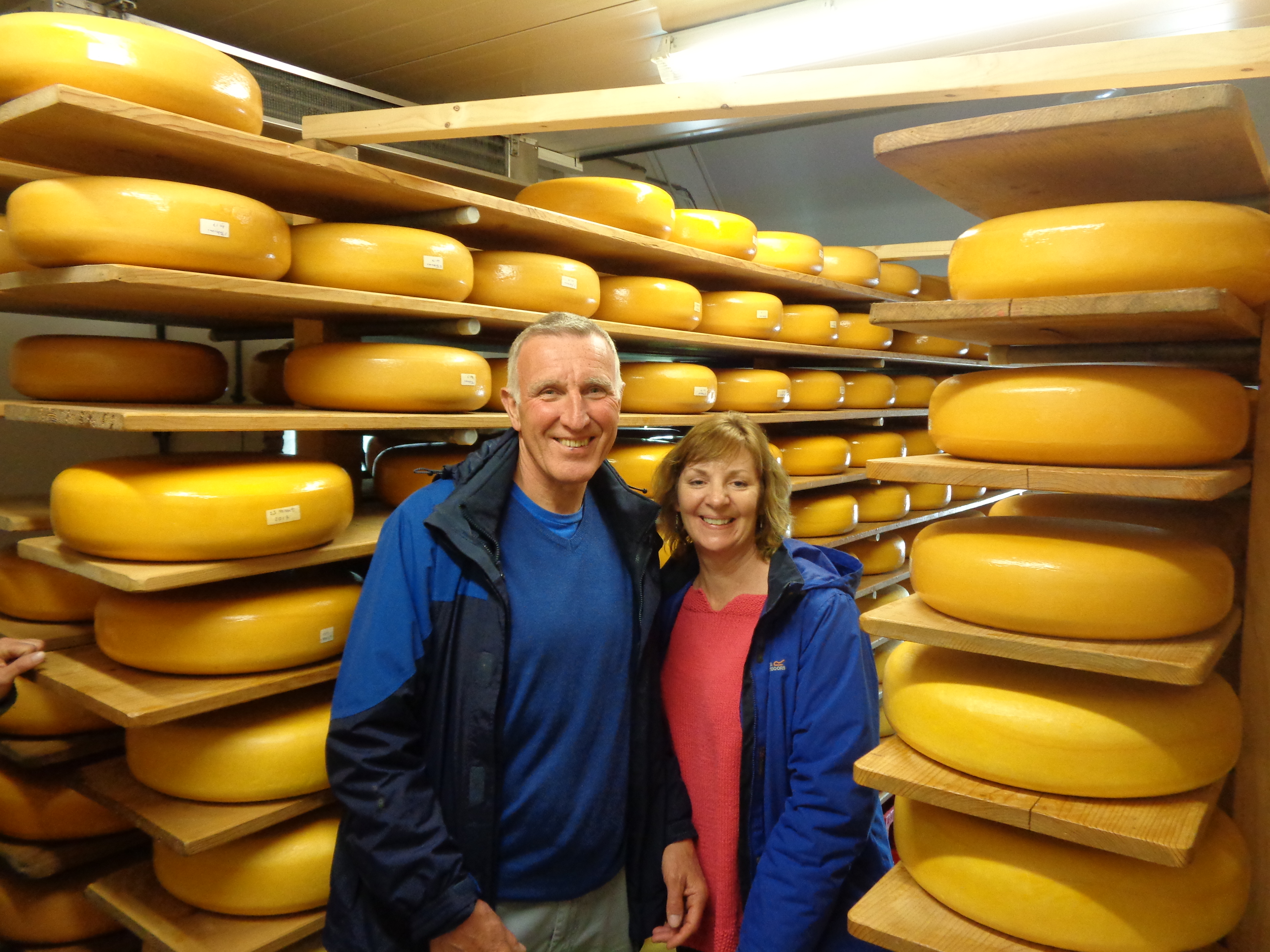 Our next stop is at the Oukoopse Molen, which is a "wipmolen". This type of windmill can easily rotate around its axis.
We continue our journey through the gorgeous lake district of Reeuwijk.
Once this was a mining area for peat, but now you will now find a breath-taking natural reserve with a rich diversity of waterfowl. This biking tour will take you through this magnificent area and cross roads where cars are not allowed.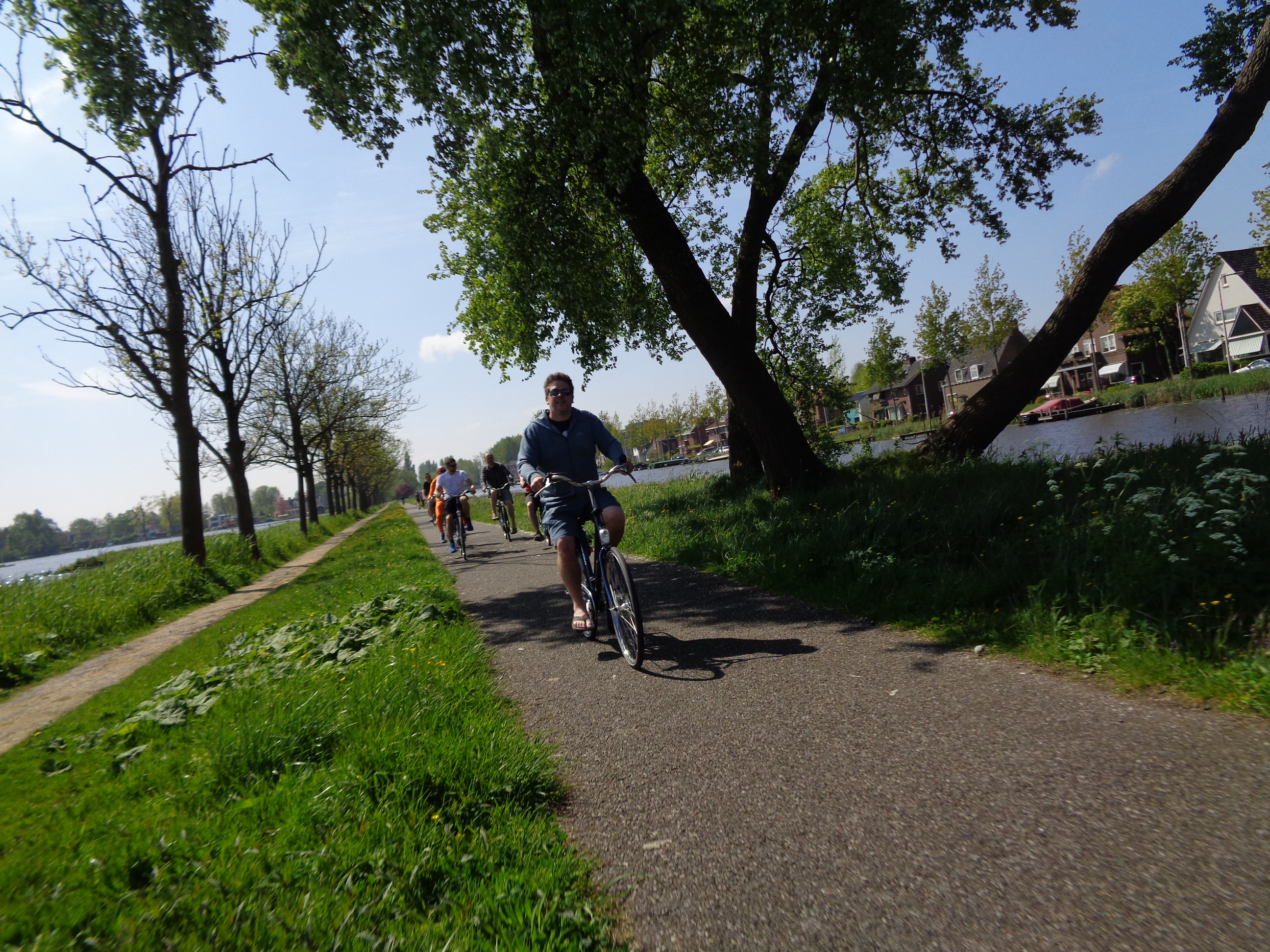 Via various scenic polder roads we return to Gouda and have our final stop at the Mallemolen, which is one of the largest polder mills in Holland. The original windmill at this location dates from 1804.
This tour ends at the Market square in the centre of Gouda where we will show you the main highlights of this beautiful old town.
---
This tour includes
Bike rental (regular bike)
---
Optional activities:
Cheese farm - guided tour (1 hour). Pending opening schedules a guided tour at the cheese farm is possible: learn about the cheese making process and see the cows! An additional charge applies, please inquire.
Some of the windmills are open to the public. Pending opening schedules one of the windmills will be visited. Usually this is only possible on a Saturday. An additional charge of €2 per person applies.
---
This tour does not include
---
Prices for private tours
Group size
Price for the group
Price per person
2
€125
€62.50
3
€135
€45.00
4
€155
€38.75
More than 4
add €25 per person
---
Prices for scheduled tours
€35.00 per person
---
Bring your own bike?
Get an 8 euro discount!
---
During the Gouda Cheese Market season (1 April - 31 August) this tour is scheduled every Thursday afternoon, departure time 13:00.
---
Other options such as e-bikes
You can find these items here.